Rosehip jam (BUTTEMOSCHT)
Years of tradition and heavy craftsmanship provide prefabricated Rosehip puree (Buttemoscht) from the "Hobel". This is a Swiss dialect term for a landscape called Gempen in the canton of Solothurn in Switzerland. The actual recipe for the production of Buttemoscht is still a secret of the farmers' wives there today.
I have loved this jam since I was a child. More than fifty years ago, the farmer's wives roamed the streets with ladders, large heavy pans and ladles. They loudly announced what they were bringing with them and our mothers flew outside with small pans and bowls to buy the red mush. Later the pans bubbled all over the area and it smelled heavenly.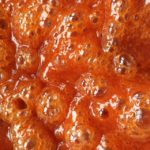 Ingredients
2 litres Rosehip puree

2kg preserving sugar

2dl Arabic Rose Water

Jars and lids for storage
Instructions
Preparatory work: The jars and lids are first cleaned with hot water and then the edges and lids are rubbed with Kirsch. This procedure inhibits the formation of mould and the jam lasts longer.
Bring the puree to boil in a large pan
Add the sugar and do not stop stirring. Gelling sugar tends to burn into the bottom of the pan if not stirred constantly.
Once the sugar has been absorbed completely, add the rose water.
Bring the puree to the boil again for a few minutes.
Then immediately fill into the prepared glasses. Add the lids  and turn the glasses upside down. Allow to cool. Label and store for up to several years or start eating right away.
!!!! The cooking process takes up to 30 minutes !!!