DEUTSCHER TEXT UNTER DER ENGLISCHEN VERSION
Envole-moi… Live. Un tour ensemble, Goldman and Jones, stadium sound in my ears while the sun's rays dance across my face as I write.
Since this song I no longer consider Jean Jacques Goldman (JJG) a gooey French singer. I have done him wrong over the years. Pardonnez-moi JJG! You might laugh, I do too, but meanwhile I have three JJGs following me on Twitter. All three claim they are the real one. I let them believe that I believe it by not reacting. But that is not the blog topic. Let's take a little trip down south, d'accord?
Despite the strike Adrian and I arrived in Marseille on December 27th after all. In the late evening. So we decided for once to go by metro and not on foot to our hotel. Luckily, the big city has only four lines, namely in all four directions. Two stations later, we got out in the Joliette, checked into the hotel and looked for a restaurant around 8.30 p.m. as meanwhile, the hunger was big. We relied on the Tripadvisor, who suggested the Réfugée in the middle of the Panier Quartier.
The chef stood smoking in front of the small restaurant and sent us inside with a gesture. A little later we enjoyed homemade olive tapanade with crispy bread, mullet with seasonal vegetables and red wine from Bandol. Chatters around us made us feel at home, Bienvenue à Marseille. Finally back in Marseille. Back at the hotel: Blissfully falling asleep with wide open windows, the last ferry to Algiers departs with a loud snort.
The next morning we are on our way without a city map. Slightly astonished we had noticed that this time we live directly behind the "La Major" cathedral in the Joliette. A new quarter, which was stamped out of the old docks and upgraded. Hip restaurants, long shopping streets, an artificial ice rink high above the Mediterranean Sea on the roof of a shopping temple, old betting offices, noble perfume and chocolate boutiques.
Next to it is the ship station, which brings the ferries to Corsica and Algiers by sea. And back. Sucking people into cars to spit them out on land.
Figuratively I have the following in mind:
Arrival by ferry in Algiers. By car on a direct course into the Tassili mountains, across the Sahara. Through the endlessness of the sandy roads, and at some point exchanging the car for a camel. Through the middle of dunes in a caravan and past rugged rocks. Further and further south, rubbing the desert sand out of my eyes, only to suddenly arrive in the middle of the Tassili as if in twilight sleep. Descend and pause at the mighty rocks. In silence. Awe-inspiring. At last! Finally seeing the rock paintings with my own eyes. Realizing images that before were only true in dreams.
Stories of the beginning of mankind. Stories of the animals and people who were still one with each other. Ahhhhh I just completed this journey with the live version of Poussière from the above mentioned live album of JJG.
I must have heard this music when I was eight years old. It is another colored stone in my big mosaic of life. However, the song is younger than me; but my inner images are old. Ancient. When I was about eight years old I read a short story of "the little donkey Bim". As a child I imagined his adventures down to the last detail. I walked with him through the desert, to the royal palace, on to an oasis, saw the desert fires, the colourfully decorated camels, the falconers and their birds. Being thrown high into the air and a short time later returning with prey. A desert rabbit that was in the wrong place at the wrong time and therefore roasted over the fire shortly afterwards. Listened to the desert wind, saw the high rocks in the light of the Milky Way and followed the evening star, which led me to the rock paintings. In awe of this ancient knowledge I fell silent. Giraffes dancing next to lions, which they did not hunt but joined the same path. People with spears following the animals, running towards the sun. Such stories kindled this fire inside me. "The little donkey Bim" only had a few pages of child-oriented adventures from 1965, the rest came from my own fantasy world. But believe me, the surprise was powerful, as I saw the rock paintings from the Tassili for the first time in a book years later. But let's return to Marseille.
We explored the city anew. We visited all of Adrian's record shops on foot, stayed in our favourite bookstores. In one of them I discovered a souvenir for myself. "Les Contes Silencieux" by Benjamin Lacombe. It jumped into my hands and wouldn't let go. A fold-out picture book with its wonderful gothic drawings of Alice in Wonderland, Thumbelina, Madame Butterfly, Pincocchio, Little Red Riding Hood and Sleeping Beauty. On ira… JJG's album couldn't have been more fitting for my ears right now…
"Les Choses" is the continuation in the Concert; Oh yes, also this time Marseille was full of Choses. I brought books, soap, ceramics from the Maghreb, bought from the old Arab in the Joliette. Who probably watches the ferries to North Africa every day as they go to and from his homeland. A lot of inner images of a newly discovered city.

Because we settled for dinner each time at places where we'd never been before. Except twice in the same restaurant at Vieux Port, where we enjoyed moules and white wine from Bandol on New Year's Eve.
By bus, tram and on foot we explored still unknown quarters, which inspired us. For me, an absolute highlight: for 2 euros to drive for a felt eternity on the Corniches alongside the sea. Glittering, silvery reflecting the islands and the gulls in the air. I could hardly get enough of the infinity.
We ate freshly caught fish and mussels, salad bowls, cabecou au mesclum (warm goat cheese with honey and thyme on a mixed young salad from Provence and crispy bread) vis-à-vis the Bonne Mère, as the mighty cathedral of Notre Dame de la Garde is called. We circumnavigated it by bus and finally we was in Roucas Blanc with its art nouveau villas with sea view, which I had read a lot about. I always imagined that there is my own house with the goats and the old olive tree. But I do not give more away, otherwise it will not remain my dream.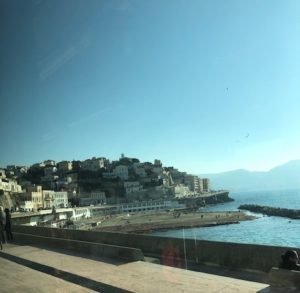 We drove right through the Prado district. We looked for La Cité Radieuse and marvelled at La Corbusières skyscraper with its many colourful windows.
Laughed at Vélodrôme that there are more rugby matches than football here. Having been on the Terrasse du Mer by the ice rink. Ice skating above the Mediterranean Sea whilst the ferries pass the Friouls into the open sea.
Kir Royal in the old docks and a new haircut on New Year's Eve.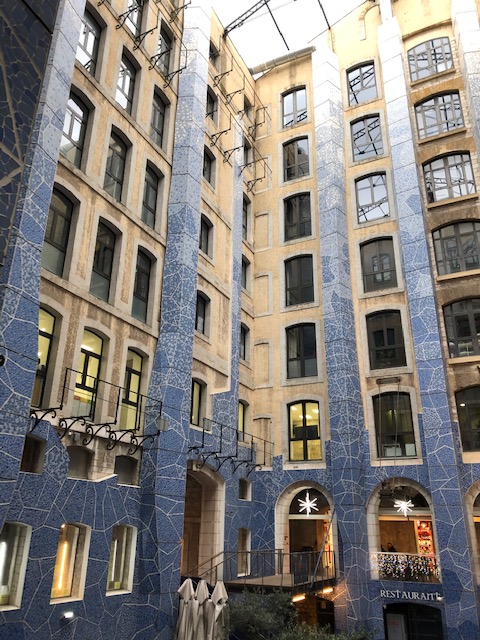 JJG introduces his musicians one by one in the third last song and each of them singingly "advertises" his instrument. Colourful. Cheerful. A little chaotic. Similar to this blog.
From all sides I try to capture what I have seen, experienced, smelled, tasted, felt. There were the tough security checks at the entrance to the Christmas market, the many colourful ceramic crib figures, the Ferris wheel ride high above the Vieux Port. The screaming of the merchants and the smell of fresh fish.
Then, like from another time, the four fairies on stilts. They pulled me along and I ran after them as if under hypnosis. Their dances dragged me across the sea, sent me to the seahorse palaces, dragged me up and threw me to the rocks in the hinterland, let me smell lavender and honey, dragged me away across the sea to the edges of the earth. Ohhhh I like that term. It contain everything that sometimes arises in me.
Great inner pictures, strong inner pictures. From these I create my colours on the plates. Do a little magic with colours and aromas and create something new whose roots lie somewhere in Marseille. To my place of longing. Be it the now unfortunately somewhat run-down Cours Julien with its life artists and stranded people, the view over the sea rambling to the Friouls and the open infinity behind it, the MuCem or the steep, narrow and narrow alleys in the Panier, which are bathed in the golden light of the sun during the day.
The navettes* from the bakery smell seductive. Navettes* are a Marseille speciality. They are quite hard (and they must be) biscuits, that smell heavenly of Fleur d'Oranger.
The mighty ship's horns that call the passengers into their big belly. The smell of the soapy water of the Licorne Soap Factory perfumes the city. Wisps of the Rose Soap and Fleur d'Oranger from Flaconard, which Adrian gave me as a present. A wonderful scented souvenir.
Now it is just 20 days since our return and I am already longing for the city again. Meanwhile the last song on the CD . Envole-moi; the circle closes. A longing blog for a city, which, besides good food, strong faces and fragrances, sends me to my own edges of the world. Like an unstoppable journey that takes me back to my roots. Using my wings and sending me far away to return as a storyteller. Not wanting to tell stories wrapped in words. As Olivier Streiff, my esteemed Top Chef, says: "He who wants to read me, reads me on my plates…" Like this.
Well travelled, but happy. Hungry? No. Because I have just mentally eaten a clam salad with fine thyme vinegar on a sliced pumpkin. With a vinaigrette of pomegranate and olive oil, red onion, a touch of garlic, sea salt and black sesame seeds. Continued with melting goat cheese, dripping with honey, with chilli flakes and marjoram on crispy warm bread. The main course was a rabbit leg with coarse mustard, a red risotto of chicory and fresh leaf spinach. The dessert was a saffron glaze with a seductive scoop of black chocolate mousse. At least 85% cocoa.
Mentally I whirl like a leaf in the wind and land where I like it. Look into the pots, smell, guess taste. Flutter on, take in new worlds of scent and return sometime. Land on shores, enter new lands and choose with the cooking ladle, my magic stick, the ingredients that dance into my pans as in a dream. Cook, sizzle, stir, season. Take the plates to my guests and look into their eyes while they taste. Rejoice at the wordless praise on the surprised faces. Sweep like a leaf on my endless journey to my place of longing, to find inner peace and discover new things. Cooking and telling stories.
As Exupèry so aptly said in the little prince: Only with the heart one can hear well. Chew a cardamom capsule or a pinch of coarse sea salt… Bon voyage.
Here the link to spotify for those who want to listen to the album: https://open.spotify.com/album/66h3mx2Nocjpwk5Hy1u9XK?si=BR6VybS3TdqSKNY8swwn1g
A bientôt, Susann
Un tour Ensemble, MARSEILLE Part 5
Deutsche Version
Envole-moi… Live. Un tour ensemble, Goldman and Jones, Stadionsound im Ohr, während mir Sonnenstrahlen beim Schreiben übers Gesicht tanzen.
Seit diesem Lied betrachte ich (JJG) Jean Jacques Goldman nicht mehr als schnulzigen französischen Sänger. Ich tat ihm über die Jahre unrecht. Pardonnez-moi JJG! Lacht nur, ich tue es auch, aber mittlerweile habe ich auf Twitter gleich drei JJG, die mir folgen. Alle drei behaupten sie seien der Echte. Ich lasse sie in dem Glauben, dass ich es glaube, indem ich nicht reagiere. Aber das ist nicht das Blogthema. Reisen wir doch ein wenig in den Süden, d'accord?
Trotz Streik kamen Adrian und ich doch noch am 27. Dezember in Marseille an. Allerdings erst am Abend. Also beschlossen wir ausnahmsweise per Metro und nicht zu Fuss zu unserem Hotel zu gelangen. Zum Glück hat die Riesenstadt nur vier Linien, nämlich in alle vier Himmelsrichtungen. Zwei Stationen später stiegen wir in der Joliette aus, checkten im Hotel ein und suchten um 2030 Uhr ein Restaurant, denn der Hunger war mittlerweile gross. Wir verliessen uns auf den Tripadvisor, der uns mitten im Panier Quartier das Réfugée vorschlug.
Der Chefkoch stand rauchend vor dem kleinen Restaurant und schickte uns mit einer Geste nach drinnen. Wenig später genossen wir grüne Oliventapenade mit knusprigem Brot, Meerbarben mit Saisongemüse und Rotwein aus Bandol. Wir plaudern und lachen mit dem Kellner über den OM (Olympique Marseille), den Streik und dies und das, als wären wir alte Freunde und wieder mal zu Besuch. Bienvenue à Marseille.
Endlich wieder in Marseille. Später seliges Einschlafen mit weitgeöffneten Fenstern, die letzte Fähre nach Algier legt mit lautem Schnauben ab.
Am andern Morgen stadtplanlos unterwegs. Leicht erstaunt stellten wir fest, dass wir dieses Mal direkt hinter der "La Major" Kathedrale wohnen.
Das Joliette Quartier wurde aus den alten Docks gestampft und aufgewertet. Teure Wohnungen, hippe Restaurants, eine elegante Boutique, die edle Parfumes aus Grasse, DER Parfumehauptstadt, verkauft. Ein Marseiller Chocolatier, der teure Köstlichkeiten aus Schokolade mit Olivenöl anbietet. Eine Kunsteisbahn hoch über dem Mittelmeer auf dem Dach eines Einkaufstempels. In oder vor den alten Wettbüros stehen ausschliesslich Männer, die laut debattieren welches Pferd eigentlich hätte gewinnen sollen.
Der arabische Markt auf einem der grossen Plätze. Es gibt bunte Kleider und Schuhe, Reissver­schlüsse und Nähutensilien, Haarshampoos in Jumbogrösse, Fake Gucci-Taschen daneben Orangen aus Marokko.
Kunterbunte Joliette. Bienvenue à Marseille .
Der Schiffsbahnhof gleich daneben, der die Fähren nach Korsika und Algier übers Meer bringt. Und zurück. Menschen in Autos einsaugend, um sie an Land auszuspucken.
Bildhaft stelle ich mir Folgendes vor:
Ankunft mit der Fähre in Algier. Mit dem Auto auf direktem Kurs ins Tassiligebirge, quer durch die Sahara. Durch die Unendlichkeit der Sandstrassen, um irgendwann das Auto gegen ein Kamel zu tauschen. Mitten durch Dünen in einer Karawane und an schroffen Felsen vorbei. Immer weiter nach Süden, den Wüstensand aus den Augen reibend, um plötzlich wie im Dämmerschlaf mitten im Tassili anzukommen. Absteigen und Innehalten bei den mächtigen Felsen. Schweigend. Ehrfürchtig. Endlich! Endlich die Felsbilder mit eigenen Augen sehen. Wahrwerdende Bilder, die zuvor nur im Traum wahr waren.
Geschichten vom Anbeginn der Menschheit. Erzählend von den Tieren und Menschen, die noch eins miteinander waren. Ahhhhh diese Bilderreise vollzog ich soeben mit der Liveversion von Poussière aus dem eingangs erwähnten Livealbum von JJG.
Diese Musik muss ich wahrscheinlich schon mit acht Jahren gehört haben. Sie ist ein weiteres farbiges Steinchen in meinem grossen Lebensmosaik. Jedoch ist das Lied jünger als ich; aber meine inneren Bilder sind Alte. Uralte.
Mit etwa acht Jahren las ich die kleine Geschichte vom "Eselein Bim". Ich malte mir als Kind bis ins letzte Detail dessen Abenteuer aus. Wanderte mit ihm durch die Wüste, zum Königspalast, weiter zu einer Oase, sah die Wüstenfeuer, die bunt geschmückten Kamele, die Falkner und ihre Vögel. Die hoch in die Luft geworfen werden und kurze Zeit später mit der Beute zurückkehren. Einen Wüstenhasen, der zur falschen Zeit am falschen Ort war und deshalb kurz danach über dem Feuer brutzelt Lauschte dem Wüstenwind, sah die hohen Felsen im Licht der Milchstrasse und folgte dem Abendstern, der mich zu den Felsbildern führte. Mich in Ehrfurcht vor diesem alten Wissen verstummen und erzittern liess. Giraffen und Gazellen tanzend neben Löwen. . Menschen mit Speeren den Tieren hinterher laufend, alle der Sonne entgegen. Solche Geschichten entfachten dieses Feuer in meinem Inneren. Das Eselein Bim hatte in Wahrheit nur ein paar Seiten kindergerechte Abenteuer aus dem Jahre 1965. Der Rest entstammte meiner eigenen Fantasiewelt. Doch glaubt mir, die Überraschung war mächtig, als ich Jahre später zum ersten Mal in einem Buch die Felsbilder aus dem Tassili sah. Aber kehren wir nun nach Marseille zurück.
Wir erkundeten die Stadt aufs Neue. Suchten Adrians Plattenläden allesamt zu Fuss auf, verweilten in unseren Lieblingsbuchläden. Dort entdeckte ich ein Mitbringsel für mich selbst. "Les Contes Silencieux" von Benjamin Lacombe. Es sprang mir in die Hände und liess mich nicht mehr los. Ein Klappbilderbuch mit wunderbaren tristen Zeichnungen von Alice im Wunderland, Däumelinchen, Madame Butterfly, Pincocchio, Rotkäppchen und Dornröschen. On ira… Passender könnte JJGs Album grad nicht in meinen Ohren angekommen sein…
Les Choses die Fortsetzung im Concert; Ohja, auch dieses Mal war Marseille voller Choses. Ich brachte Bücher mit, Seife, Keramik aus dem Maghreb, gekauft beim alten Araber in der Joliette. Der bestimmt täglich den Fähren nach Nordafrika zusieht, wie sie in seine Heimat ziehen und wieder zurückkehren. Jede Menge innerer Bilder einer neu entdeckten Stadt.
Wir liessen uns zum Essen jedes Mal woanders nieder, wo wir noch nie waren. Ausser zwei Mal im gleichen Restaurant am Vieux Port, wo wir an Silvester Moules und Weisswein aus Bandol genossen.
Per Bus, Tram und zu Fuss erkundeten wir uns noch unbekannte Quartiere, die uns begeisterten. Für mich ein absolutes Highlight: für 2 Euro und eine gefühlte Ewigkeit auf den Corniches entlang dem Meer zu fahren. Glitzernd, silbrig spiegelnd die Inseln und die Möwen in der Luft. Ich konnte mich kaum sattsehen an der Unendlichkeit.
Wir assen fangfrische Fische und Muscheln, Salatbowles, Cabecou au Mesclum (warmer Ziegenkäse mit Honig und Thymian auf einem gemischten Jungsalat aus der Provence und knusprigem Brot) vis-à-vis der Bonne Mère, wie die mächtige Kathedrale der Notre Dame de la Garde genannt wird. Wir umrundeten diese per Bus und endlich war ich im Roucas Blanc mit seinen Jugendstilvillen mit Meerblick, von denen ich viel gelesen hatte.
Mir immer ausgemalt habe, dort steht mein eigenes Haus mit den Ziegen und dem alten Olivenbaum. Mehr gebe ich aber nicht preis, sonst bleibt es ja nicht mehr mein Traum.
Wir fuhren quer durchs Pradoviertel. Besuchten La Cité Radieuse und bestaunten La Corbusières Hochhaus mit den vielen bunten Fenstern.
Lachten beim Vélodrôme, dass hier mehr Rugbyspiele als Fussball stattfinden. Standen auf der Terrasse du Mer bei der Kunsteisbahn.
Schlittschuhlaufen über dem Mittelmeer, während die Fähren an den Friouls vorbei hinaus aufs offene Meer ziehen.
Kir Royal in den alten Docks und neuer Haarschnitt am Silvestertag.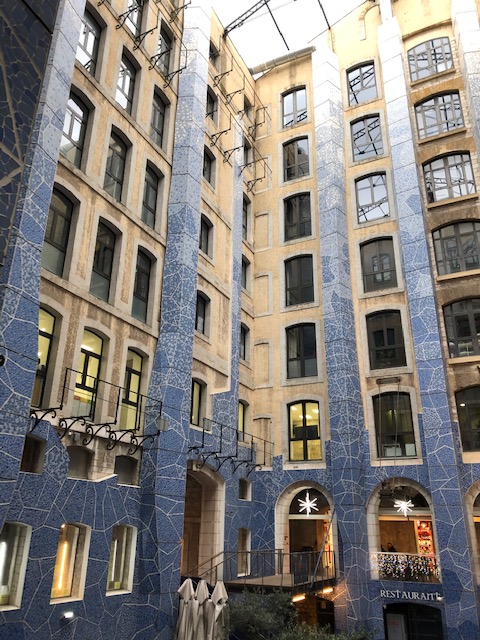 JJG stellt beim drittletzten Lied seine Musiker einzeln vor und jeder macht singend "Werbung" für sein Instrument. Farbig. Fröhlich. Dieses Kunterbunt gleicht meinem Blog.
Von allen Seiten versuche ich einzufangen, was ich alles gesehen, erlebt, gerochen, geschmeckt, gefühlt habe. Da waren die strikten Sicherheitskontrollen am Eingang zum Weihnachtsmarkt, die vielen bunten Krippenfiguren aus Keramik, der Riesenradfahrt hoch über dem Vieux Port. Das Geschrei der Fischverkäufer und der Geruch am Fischmarkt .
Dann wie aus einer anderer Zeit, die vier Feen auf Stelzen. Sie zogen mich mit und ich lief ihnen wie unter Hypnose nach. Ihre Tänze zogen mich übers Meer, schickten mich zu den Seepferdchen Palästen, rissen mich empor und schleuderten mich zu den Felsen ins Hinterland, liessen mich Lavendel und Honig riechen, rissen mich fort übers Meer zu den Rändern der Erde. Ohhhh ich mag diesen Begriff. Beinhaltet er alles, was in mir manchmal aufzusteigen vermag.
Gute Bilder, starke Bilder. Aus diesen erschaffe ich meine Farben auf den Tellern. Zaubere ein wenig mit Farben und Aromen und kreiere Neues, dessen Wurzeln irgendwo in Marseille liegen. Meinem Sehnsuchtsort. Sei es der mittlerweile leider ein bisschen heruntergekommene Cours Julien mit seinen Lebenskünstlern und Gestrandeten. Der Blick übers Meer schweifend zu den Friouls und die offene Unendlichkeit dahinter. Das stolze MuCem oder die steilen, engen und schmalen Gassen im Panier, die am Tag in goldenes Licht der Sonne getaucht sind.
Die Navettes*aus der Backstube verführerisch duften. Navettes* sind eine Marseiller Spezialität. Das sind ziemlich harte (und das müssen sie sein) Bisquits, die himmlisch nach Fleur d'Oranger riechen.
Die mächtigen Schiffshörner, die die Passagiere in ihren grossen Bauch rufen. Der Geruch der Seifenlauge der Licorne Seifenfabrik, welcher die Stadt parfümiert. Schwaden der Rosenseife und Fleur d'Oranger von Flaconard, mit denen Adrian mich beschenkt hat. Ein wunderbares Duftsouvenir.
Nun sind es grad mal 20 Tage seit unserer Rückkehr und ich sehne mich schon wieder nach der Stadt. Mittlerweile das letzte Lied auf der CD. Envole-moi; der Kreis schliesst sich. Ein Sehnsuchtsblog nach einer Stadt, die nebst gutem Essen, starken Gesichtern und Düften, mich zu meinen eigenen Rändern der Welt schickt. Wie eine unaufhaltsame Reise, mich zu meinen Wurzeln befördert. Dabei meine Flügel einsetzt und mich weit fortschickt, und mich als Erzählerin zurückkehren lässt. Nicht in Worte verpackte Geschichten erzählen möchte. Wie es Olivier Streiff, mein hochverehrter Top Chef sagt: Wer mich lesen will, liest mich auf meinen Tellern… Etwa so.
Weit gereist, aber glücklich. Hungrig? Nein. Denn ich hab soeben geistig einen Muschelsalat an feinem Thymianessig auf gehobeltem Kürbis gegessen. Mit einer Vinaigrette aus Granatapfel und Olivenöl, roter Zwiebel, einem Hauch Knoblauch, Meersalz und schwarzem Sesam. Weiter gings mit zerfliessenden Ziegenkäse, vor Honig triefend, mit Chiliflöckchen und Majoran auf knusprig warmem Brot. Als Hauptspeise der Kaninchenschlegel mit grobem Senf, einem roten Risotto aus Chicorée und frischem Blattspinat. Das Dessert ein Safranglacé mit einer verführerischen Kugel schwarzer Mousse au Chocolate. Mindestens 85% Kakao.
Geistig wirble ich wie ein Blatt im Wind und lande dort, wo es mir gefällt. Schaue in die Kochtöpfe, rieche, ahne, schmecke. Flattere weiter, nehme neue Duft-Welten in mir auf und kehre irgendwann zurück. Lande an Ufern, betrete neues Land und wähle mit der Kochkelle, meinem Zauberstab, die Zutaten, die wie im Traum in meine Pfannen tanzen. Koche, brutzle, rühre, würze. Bringe die Teller meinen Gästen und schaue in ihre Augen, während sie kosten. Freue mich über die wortlosen Lobs in den überraschten Gesichtern. Fege wie ein Blatt weiter auf meiner unendlichen Reise zu meinem Sehnsuchtsort, um zur inneren Ruhe zu finden und darin Neues zu entdecken. Kochen und Geschichten erzählen.
Wie sagte Exupèry im kleinen Prinzen so treffend: Nur mit dem Herzen hört man gut. Zerkaut mal eine Kardamomkapsel oder eine Prise grobes Meersalz… Bon voyage.
A bientôt, Susann
Hier für alle, die das Album hören möchten der Spotifylink: https://open.spotify.com/album/66h3mx2Nocjpwk5Hy1u9XK?si=BR6VybS3TdqSKNY8swwn1g