In the past, media made a clear distinction between facts and opinions. The facts were presented objectively in the article and their judgement by the author marked as commentary in a separate column. Today one has to laboriously collect the presumed facts between the preconceived opinion of the journalist The building of an opinion is further complicated by the fact that the media have become a uniform mush, which like wind vanes speak after the mouth of the assumed vox populi . New insights or alternative points of view are not conveyed, but existing (pre-)judices are confirmed. The columnist Beat Kappeler recently said aptly in an interview that "anyone who relies on secondary sources is to blame for himself".
Driven by this insight, we took the burden on ourselves and went "ad fontes" and experienced Switzerland by motorbike. In the tradition of great poets and thinkers like Goethe or Jeremy Clarkson we went on a "Grand Tour" through Switzerland. We followed the route of the Swiss Tourist Association: https://grandtour.myswitzerland.com/de/
On our journey we gained more insights into Switzerland within a few days than in the last decades. This was not only an educational trip but also a mindfulness therapy. During these therapies one focuses on the impressions of the moment and negates the tendency of the brain to brood in the past or future. On a motorbike you are on the road with all your senses: smells of freshly mown hay change with lake air but also occasional industrial and city smells. Coniferous forests smell very different from deciduous forests. The differences in temperature are striking: rather hot in the sun and when standing in a congestion jam in the cities, rather fresh in the evening or when crossing a pass.
It is also astonishing how close substantial differences were. It is only a few minutes from noble villas along Lake Geneva or Lake Lucerne to dull street villages that are paved with "a vendre" signs or where a weathered sign has apparently been offering building land for 45 /m2 for quite some time. In view of the upcoming elections, colourful, young candidates are advertising for climate protection and sustainability in urban areas. A few minutes further on, every few metres there is a big advertisement "Vote Bauer Knecht for order and Swiss law".
The first stage led us from Basel to Neuchâtel. The next stage should have led us from Neuchâtel to Geneva. However, the authors of the tourism association had planned in which direction the route should go and only offered the navigation data for Geneva-Neuchâtel for download.
Hence we drove over the motorway to Geneva. Due to the lack of nice overnight accommodations there, we drove on to Annecy. This is a wonderful medieval town in the Haute Savoie, whose visit we can warmly recommend.
The trip from Bern to Lucerne took us past Swiss cultural heritage such as the Radio Beromünster broadcasting tower, Emmental cheese dairies, Kambly and Willisauer Ringli factories. The clear highlight, however, was a cattle market, where the auctioneer praised the qualities of the animals to such an extent that the candidates for the National Council on the posters next to them went pale with envy.
The (for the time being) last part of the trip led us from Lucerne via Schwyz to Zurich. We could have enjoyed the view from the car and motorcycle ferry "Tellsprung" a little longer and are curious to see what the next stages will bring us.
Von Motorradtherapien, Bauer Knecht und verschiedenen Gerüchen
Früher wurde in den Medien klar zwischen Fakten und Meinungen unterschieden. Die Tatsachen wurden objektiv im Artikel dargestellt und deren Würdigung als Kommentar gekennzeichnet in einem separaten Bericht. Heute muss man sich zwischen der vorgefassten Meinung des Journalisten mühselig die Brocken der mutmasslichen Tatsachen zusammensuchen. Die Meninungsbildung wird weiter erschwert dadurch, dass die Medien zu einem Einheitsbrei geworden sind, welche wie Windfahnen der vermuteten vox populi nach dem Mund reden. Neue Erkenntnisse oder alternative Sichtweisen werden keine vermittelt sondern bestehende (Vor-)Urteile bestätigt. Treffend hat der Kolumnist Beat Kappeler neulich in einem Interview gesagt «wer sich auf Sekundärquellen verlässt, ist selber schuld».
Getrieben von dieser Einsicht nahmen wir die Bürde auf uns und begaben uns «ad fontes» und erfuhren die Schweiz mit dem Motorrad. In der Tradition grosser Dichter und Denker wie Goethe oder Jeremy Clarkson begaben wir uns auf eine «Grand Tour» durch die Schweiz. Dabei folgten wir der Strecke des schweizerischen Tourismusverbands: https://grandtour.myswitzerland.com/de/
Auf unserer Reise haben wir innert weniger Tage mehr Einsichten über die Schweiz gewonnen als in den letzten Jahrzehnten. Dies war aber nicht nur eine Bildungsreise sondern auch eine Achtsamkeits-therapie (auf englisch «Mindfulness»). Bei dieser fokussiert man auf die Eindrücke des Moments und negiert die Neigung des Gehirns in der Vergangenheit oder Zukunft zu grübeln. Auf dem Motorrad ist man mit allen Sinnen unterwegs: Gerüche von frisch gemähten Heu lösen sich ab mit Seeluft aber auch gelegentlichen Industrie- und Stadtdüften. Nadelwälder riechen ganz anders als Laubwälder. Die Temperaturunterschiede sind frappant: eher heiss in der Sonne und in der Kolonne stehend in den Städten, eher frisch gegen Abend oder bei der Passüberquerung.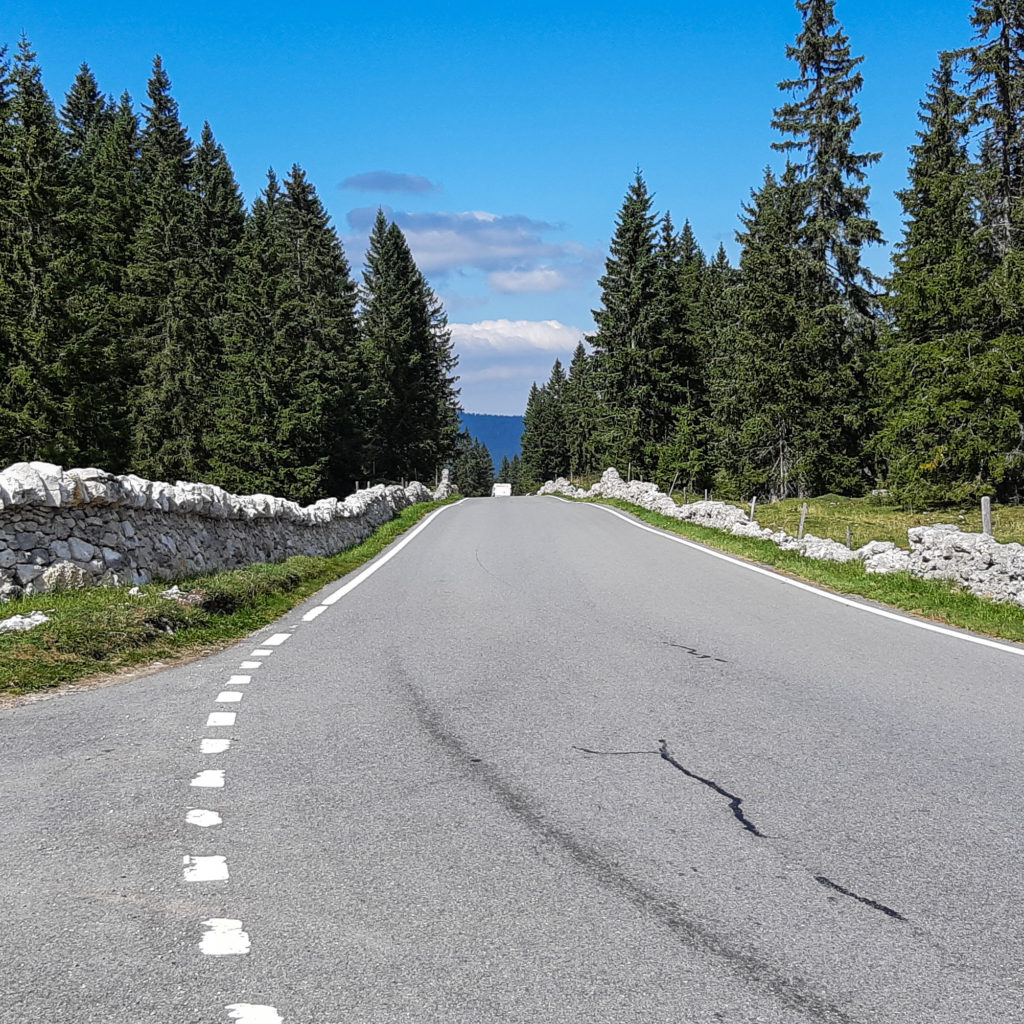 Erstaunlich ist auch, wie nahe grosse Unterschiede liegen Es sind nur wenige Minuten von noblen Villen entlang von Genfer See oder Vierwaldstättersee zu tristen Strassendörfern, die zugepflastert sind mit «a vendre» Schildern oder wo ein verwittertes Schild offenbar seit längerem Bauland für 45.- /m2 anbietet. Im Hinblick auf die bevorstehenden Wahlen werben in städtischen Gebieten farbenfrohe, jugendliche Kandidaten für Klimaschutz und Nachhaltigkeit. Ein paar Minuten weiter prangt alle paar Meter grosse Werbung «Wählt Bauer Knecht für Ordnung und Schweizer Recht»
Die erste Etappe führte von Basel nach Neuchâtel. Die nächste Etappe hätte uns eigentlich von Neuchâtel nach Genf führen sollen. Die Autoren des Tourismusverbands hatten jedoch vorgesehen, in welche Richtung man die Strecke abfahren soll und nur die Navi-Daten für Genf-Neuchâtel zum download angeboten.
Kurzerhand fuhren wir deshalb über die Autobahn nach Genf respektive mangels schöner Übernachtungsgelegenheiten nach Annecy. Ein wunderbares mittelalterliches Städtchen in der Haute Savoie, dessen Besuch wir wärmstens empfehlen können.
Die Etappe von Bern nach Luzern führte an schweizerischem Kulturgut wie dem Sendeturm von Radio Beromünster, Emmentaler Käsereien, Kambly und Willisauer Ringli Fabriken vorbei. Klarer Höhepunkt war jedoch ein Viehmarkt, wo der Auktionator die Qualitäten der Tiere in solchen Tönen lobte, dass die Nationalratskandidaten auf den Plakaten daneben vor Neid erblassten.
Die (vorläufig) letzte Etappe führte uns von Luzern über Schwyz nach Zürich. Den Blick von der Auto- und Motorradfähre "Tellsprung" hätten wir durchaus auch noch etwas länger geniessen können und sind gespannt, welche Erlebnisse uns die nächsten Etappen bescheren werden.