A French classic. Goes well along with oven vegetables and potato gratin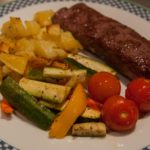 Ingredients
4 lamb loins (approx. 200g each)

two cloves of garlic

a sprig of rosemary

20g butter

mustard

salt

pepper

Gheebutter (or clarified butter)
Instructions
take the meat out of the fridge 1 hour before cooking.
Mix 20 g butter with a pinch of salt, the needles of a sprig of rosemary and a pressed clove of garlic. Coarsely spread the butter mixture over the meat and vacuum it in a large bag.
cook the lamb loins at 56 degrees for about 35 minutes in a water bath.
Press a clove of garlic and mix well with 1 tablespoon mustard, 2 tablespoons olive oil, ground pepper and 1/2 teaspoon salt
dry the lamb loins, coat with the marinade and fry in a frying pan with 2 tablepoons ghee butter at strong heat for circa 1 minute each side.
Goes along well with oven vegetables and potato gratin